---
---
Climate engineering is mathematically the most destructive form of anthropogenic activity ever unleashed on the biosphere. Geoengineering programs must also be considered biological warfare due to the highly toxic materials that are being dispersed into our skies. The fight to expose and halt climate engineering is a fight for life, nothing less. All are needed to help sound the alarm, sharing credible data from a credible source is essential to the effort. Make your voice heard while it can still make a difference.
---
---
Hacking the planet
Dane Wigington
Geoengineering is no conspiracy theory
Geoengineering is part of the Great Reset
Natural news:
The following statement is a fact, not hyperbole: Globalists are currently carrying out a planetary-scale genocide agenda against humanity and all life on Earth as we know it. They are waging this war through multiple vectors that attack not only humans, but also plant life across the planet
Terraforming: Removing carbon dioxide from the atmosphere to devastate crop yields and plant ecosystems
Geoengineering: Spraying the skies with pollutants to dim the sun and reduce photosynthesis
Famine: Attacking the fertilizer supply to cause global food scarcity, famine and death
Energy: Attacking energy infrastructure to plunge first world nations into collapse and chaos
Kill shots: Pushing vaccines as medicine when they are actually depopulation bioweapons
Collapse: Carrying out controlled demolition of the world economy to impoverish the planet
Check out this website, full of information! see some info below taken from the website https://zerogeoengineering.com/
---
---
---
Geoengineering Earth, Exposing The Global Climate Modification Assault
Governments around the world have long since fully deployed global climate engineering on a scale that cannot truly be comprehended. They decided (without public knowledge or consent) that they had the right to use the atmosphere of our planet to serve their own agendas which amount to nothing less than weather and biological warfare.

On August 14th, 2015, there was a major event in Northern California that was organized for the purpose of exposing and halting the global climate engineering programs that are decimating our planet and the entire web of life. Numerous experts spoke out at this event including attorneys, former government scientists, a former defense industry technician, former military personnel, a prominent Northern California Neurologist, and a CEO for one of the largest environmental and engineering consulting firms in the world. Approximately 1000 people attended this event. http://www.geoengineeringwatch.org/ma…

This video is the primary PowerPoint informational presentation given at the event, "Engineering Earth, Exposing The Global Climate Modification Assault". This presentation was given by Dane Wigington, lead researcher for geoengineeringwatch.org. The emcee for this important event was John B. Wells, radio host for the highly acclaimed "Caravan to Midnight" show. John works tirelessly toward revealing the truth for the common good. His participation in the Northern California event was of immense benefit to the cause of exposing geoengineering. My deepest appreciation to John, to all the speakers that participated and shared their knowledge, to each and every activist that contributed countless hours, and of course our gratitude to all those that attended the event. Individuals came from locations as far away as Valdez, Alaska and St. Louis, Missouri.
Dane Wigington
---
The Catastrophic Consequenses of Climate Engineering
---
The Dimming, Full Length Climate Engineering Documentary
---
---
Censured video's
---
Geoengineering and Bill Gates
---
Harvard Scientists Funded by Bill Gates to Begin Spraying Particles Into the Sky In Experiment to Dim the Sun
thefreethoughtproject.com /new-study/harvard-geoengineering-particles-stratosphere Matt Agorist3/8/2019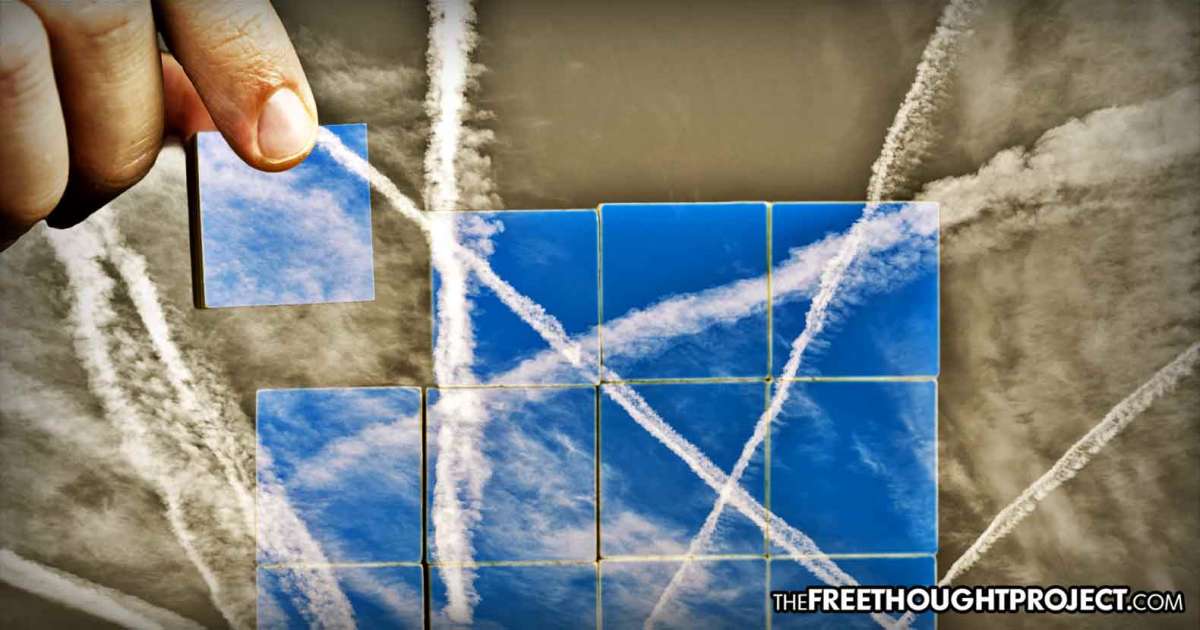 Harvard has formed an advisory board to begin moving forward with their plan to spray particles into the stratosphere to test the geoengineering method of dimming the sun.
Harvard has formed an advisory board to begin moving forward with their plan to spray particles into the stratosphere to test the geoengineering method of dimming the sun.
No, we are not a satire site. We are not a conspiracy theory site. The information you are about to read is factually accurate and 100% real despite the ostensible 'skeptics' who claim otherwise. The controversial subject of geoengineering or weather modification – which was popularized, and oversimplified with the term "chemtrails" – is once again stepping from the shadows and into the light of public scrutiny. And it may soon be a reality as Harvard scientists plan first ever experiment to spray particles in the sky to dim the sun.
What was once a conspiracy theory is now the subject of congressional debate, peer-reviewed studies, and now a Harvard experiment. Harvard scientists will attempt to replicate the climate-cooling effect of volcanic eruptions with a world-first solar geoengineering experiment. The university announced this month that it has created an external advisory panel to examine the potential ethical, environmental and geopolitical impacts of this geoengineering project, which has been developed by the university's researchers.
According to Nature Magazine, Louise Bedsworth, executive director of the California Strategic Growth Council, a state agency that promotes sustainability and economic prosperity, will lead the Harvard advisory panel, the university said on 29 July. The other seven members include Earth-science researchers and specialists in environmental and climate law and policy.
What was once a conspiracy theory will soon be a reality—any day now.
Known as the Stratospheric Controlled Perturbation Experiment (SCoPEx), the experiment will spray calcium carbonate particles high above the earth to mimic the effects of volcanic ash blocking out the sun to produce a cooling effect.
The experiment was announced in Nature magazine last year, who was one of few outlets to look into this unprecedented step toward geoengineering the planet.
If all goes as planned, the Harvard team will be the first in the world to move solar geoengineering out of the lab and into the stratosphere, with a project called the Stratospheric Controlled Perturbation Experiment (SCoPEx). The first phase — a US$3-million test involving two flights of a steerable balloon 20 kilometres above the southwest United States — could launch as early as the first half of 2019. Once in place, the experiment would release small plumes of calcium carbonate, each of around 100 grams, roughly equivalent to the amount found in an average bottle of off-the-shelf antacid. The balloon would then turn around to observe how the particles disperse.
Naturally, the experiment is concerning to many people, including environmental groups, who, according to Nature, say such efforts are a dangerous distraction from addressing the only permanent solution to climate change: reducing greenhouse-gas emissions.
The idea of injecting particles into the atmosphere to cool the earth also seems outright futile considering what scientists are trying to mimic—volcanic eruptions. If we look at the second largest eruption of the 20th century, Mount Pinatubo, which erupted in the Philippines in 1991, it injected 20 million tons of sulfur dioxide aerosols into the stratosphere. Scientists from the USGS estimated that this 20 million tons only lowered the temperature of the planet by about 1°F (0.5°C) and this only lasted a year because the particles eventually fell to back to Earth.
The Harvard team, led by scientists Frank Keutsch and David Keith, has been working on the SCoPEx project for several years but they haven't always been in total agreement. In fact, as Nature reported, Keutsch—who is not a climate scientist—previously thought the idea to be "totally insane." But he's since changed his mind. As Nature reports:
When he saw Keith talk about the SCoPEx idea at a conference after starting at Harvard in 2015, he says his initial reaction was that the idea was "totally insane". Then he decided it was time to engage. "I asked myself, an atmospheric chemist, what can I do?" He joined forces with Keith and Anderson, and has since taken the lead on the experimental work.
Adding to the questionable nature of this experiment is the fact that it is largely funded by none other than Microsoft co-founder, Bill Gates. Gates is no stranger to funding controversial experiments as he's publicly funded many of them including one that would implant devices into babies to automatically give them vaccines.
While the Harvard team's experiment may sound like something out of a dystopian science fiction movie, the reality is that it has long been on the table of governments and think tanks from around the world. In fact, just last November, a study published in Environmental Research Letters, talked about doing the exact same thing—geoengineering and planes spraying particulates into the atmosphere to curb global warming.
What's more, that study echoed the sentiments of then-CIA director John Brennan when he addressed the Council on Foreign Relations in 2016, detailing a similar process of spraying chemical particulates in the atmosphere to cool the planet.
At the meeting, Brennan addressed instability and transnational threats to global security at a meeting with the Council on Foreign Relations. During his long-winded talk of threats to US interests and how the largely CIA-created ISIL threat is impacting the world, Brennan brought up the topic of geoengineering.
Another example is the array of technologies—often referred to collectively as geoengineering—that potentially could help reverse the warming effects of global climate change. One that has gained my personal attention is stratospheric aerosol injection, or SAI, a method of seeding the stratosphere with particles that can help reflect the sun's heat, in much the same way that volcanic eruptions do.
Brennan went on to echo the calls from some scientists who have called for aerial spraying.
An SAI program could limit global temperature increases, reducing some risks associated with higher temperatures and providing the world economy additional time to transition from fossil fuels. The process is also relatively inexpensive—the National Research Council estimates that a fully deployed SAI program would cost about $10 billion yearly.
The extent to which Brennan talked about stratospheric aerosol injection shows that he and the CIA have likely been considering this for some time.
Although we are hearing more and more talk about geoengineering, it has been around for a very long time and not just in the realm of conspiracy theories. In fact, scientists have already suggested that it could be going on right now, unintentionally.
Researchers with the National Oceanic and Atmospheric Administration (NOAA) are suggesting contrails from airplanes may be inadvertently geoengineering the skies.
Chuck Long is a researcher with the Cooperative Institute for Research in Environmental Sciences (CIRES) at the NOAA Earth System Research Laboratory at the University of Colorado in Boulder. At the American Geophysical Union Fall Meeting in 2015, Long and his team released their paper, "Evidence of Clear-Sky Daylight Whitening: Are we already conducting geoengineering?" The analysis found that vapor from airplanes may be altering the climate through accidental geoengineering.
To be clear, no one here is claiming to be an expert on climate change or the effects of geoengineering. But one thing is clear and it's the fact that there is still much to be debated and learned before humans deliberately begin altering Earth's climate. Aside from doing nothing to curb carbon emissions, if we are so quick to jump on this method, it could set off a chain reaction that could prove to be catastrophic.
Please share this article with your friends and family so that they may see what's being planned for their future.
---
Billionaire philanthropist Bill Gates has been supporting a wide array of research on geoengineering since 2007, ScienceInsider has learned. The world's richest man has provided at least $4.5 million of his own money over 3 years for the study of methods that could alter the stratosphere to reflect solar energy, techniques to filter carbon dioxide directly from the atmosphere, and brighten ocean clouds. But Gates's money has not funded any field experiments involving the techniques, according to Ken Caldeira of the Carnegie Institution for Science in Palo Alto, California.
Caldeira and physicist David Keith of the University of Calgary in Canada have been in charge of deciding how to dispense the money. The pair have been informal energy and climate advisers to Gates for several years, and they say they remain independent. "This is philanthropic money and when it arrives [to Calgary] Gates does not control it," says Keith.
Recipients of the funding include Armand Neukermans, an inventor based in Silicon Valley who is working with colleagues to design spray systems for the marine clouds, and students and scientists working for Keith and Caldeira. Funding has also helped support scientific meetings in geoengineering in Cambridge, Massachusetts, and Edinburgh, Scotland, and aeronautics research related to altering the stratosphere.
There are other grantees, Keith says, but he declined to identify them or say why. "This is like a little private funding agency," he says, though he says they plan to release more information.
Gates has shown interest in geoengineering research before. He is an investor in Intellectual Ventures, a Seattle, Washington–area firm that pursues inventions and has applied for patents on techniques to geoengineer the stratosphere. Along with officials from that organization, Gates applied for a patent in 2008 to sap hurricanes of their strength by mixing surface and deep ocean water.
What's his ultimate goal? Gates "views geoengineering as a way to buy time but it's not a solution to the problem" of climate change, says spokesperson John Pinette. "Bill views this as an important avenue for research—among many others, including new forms of clean energy." (Pinette works for BCG3, a think-tank type firm Gates started last year which has no apparent role thus far in supporting geoengineering.) "Scientific and technological advances are making it possible to solve big, complicated problems like never before," writes Gates on the Web site of the Gates Foundation, which is also not involved in the geoengineering work.
---
www.forbes.com /sites/davidrvetter/2022/01/20/solar-geoengineering-why-bill-gates-wants-it-but-these-experts-want-to-stop-it/
David Vetter20/1/2022
Jan 20, 2022,04:17pm EST|
This post has been updated.
The Earth is warming rapidly as a result of human-caused emissions. So what should humanity do about it?
One of the more controversial suggestions is that we should simply prevent so much heat reaching Earth in the first place. Proponents of so-called solar geoengineering, such as tech billionaire Bill Gates, say techniques intended to block a portion of the solar radiation reaching the planet ought to be considered. Gates himself has put his money where his mouth is, backing a Harvard University experiment to look at the effect of spraying particles into the stratosphere to, in theory, create a global cooling effect.
It sounds very much like the plot of one science fiction movie in particular—namely Bong Joon-ho's 2013 film Snowpiercer, in which scientists release aerosols into the sky in a desperate bid to stop rampant global warming. Let's just say the plan doesn't work out as intended.
Now, concerned that science fiction could end up becoming science fact in all the wrong ways, an international coalition of researchers and campaigners has called for an end to solar geoengineering plans.
In an open letter, the 16 initiators of the Solar Geoengineering Non-Use Agreement—all scholars in their own right—argue there are three main grounds for preventing the use of such technologies.
MORE FROMFORBES ADVISOR
MORE FROM FORBESNew Findings Warn Earth Could Break Key Warming Barrier In 2033By David Vetter
First, they point to the unknown risks: deploying solar geoengineering tech could backfire, potentially catastrophically. "The risks of solar geoengineering are poorly understood and can never be fully known," the scholars say. "Impacts will vary across regions, and there are uncertainties about the effects on weather patterns, agriculture, and the provision of basic needs of food and water."
Next, they say, the technologies could be used by governments or corporations to prevent work on other, less risky methods to combat climate change, such as reducing the use of fossil fuels. "The speculative possibility of future solar geoengineering risks becoming a powerful argument for industry lobbyists, climate denialists, and some governments to delay decarbonization policies," the authors write.
Lastly, they ask, who would get to decide how solar geoengineering is used—and how would such a decision be fair? "The current global governance system is unfit to develop and implement the far-reaching agreements needed to maintain fair, inclusive, and effective political control over solar geoengineering deployment," they say, noting that, for example, "the United Nations Security Council, dominated by only five countries with veto power, lacks the global legitimacy that would be required to effectively regulate solar geoengineering deployment."
Frank Biermann, professor of global sustainability governance at Utrecht University and one of the letter's initiators, summed up the signatories' stance by saying: "Solar engineering is not necessary. Neither is it desirable, ethical, or politically governable."
The letter goes on to call for five measures to be adhered to by the international community: no public funding for solar geoengineering; no outdoor experiments; no patents for solar geoengineering tech; no deployment of such tech; and no support for solar geoengineering from international institutions.
More than 45 heavyweight academics, law professors and writers have signed the letter, including award-winning author Amitav Ghosh, Sheila Jasanoff, Pforzheimer professor of science and technology studies at Harvard Kennedy School, and Raymond T. Pierrehumbert, Halley professor of physics at the University of Oxford.MORE FROM FORBESShould Climate Scientists Stop Doing Research? These Experts Say YesBy David Vetter
And it's not just academics who object to the concept and practice of solar geoengineering. In June 2021, some 30 groups of indigenous peoples from around the world called on Harvard University to abandon the Gates-backed plans to test its solar geoengineering tech with the help of the Swedish Space Corporation. "We do not approve legitimising development towards solar geoengineering technology, nor for it to be conducted in or above our lands, territories and skies, nor in any ecosystems anywhere," the signatories stated in a letter drafted by the Saami Council, which represents indigenous Saami people across Scandinavia and in Russia. Prominent campaigner Greta Thunberg came out in support of the indigenous peoples and against solar geoengineering.
The indigenous peoples were successful, and the test was cancelled.
Yet the debate over solar geoengineering is likely to persist, as it enjoys the backing of wealthy individuals such as Gates, and the support of key scientific institutions, including the powerful U.S. National Academies of Sciences, Engineering, and Medicine, which is urging the U.S. government to set up a federal research program to advance the technologies to the tune of up to $200 million.
Elsewhere, the Carnegie Climate Governance Initiative (C2G) aims to get the United Nations to discuss solar geoengineering at the UN General Assembly in 2023—though C2G emphasizes that its stance is strictly impartial, and that the initiative simply seeks effective governance of the technologies.
But for some, the potential rewards of solar geoengineering in the face of a warming planet are clearly too tantalizing to resist, even when balanced against its unknown risks and fraught ethical implications.
The full text of the Solar Geoengineering Non-Use Agreement can be read here.
Update 01/22/2022 GMT1240: This post has been updated to clarify the Carnegie Climate Governance Initiative's stance on solar geoengineering technologies, as noted by C2G executive director Janos Pasztor.
---
---
---
Hemel onder vuur (Heaven under fire) – Fred Teunissen (book in Dutch)
---